The typical list for this topic usually consists of jeans, black pants, LBD (little black dress), white dress shirt, blazer, pencil skirt, etc.
Well I'm here to take this classic and turn it up and modernize it for my girls and all of their styles, whether it be artsy, preppy, trendy, classic, punk, etc.
Bright mini skirt
Patterned tights
Decorative/statement socks
Black belt
Textured jacket
Heels/wedges
Dark fitted jeans
Long, button-down blouse
Classic colored camisoles
Simple sweater
A bright mini skirt looks good for any type of style on any shape! It can be manipulated to bring attention to the waits, legs, butt, or even height. By wearing a dark top, the attention is focused on the waist line by the dramatic contrast (left). If a bright colored top is paired, creating color-blocking, the attention can be drawn up the outfit to elongate the figure (middle). Pastels and earth tones are great ways to make the legs and butt eye-catchers (right).
Patterned tights can make legs look fuller if a bright or block-ish/geometric pattern is used. To make the legs appear slimmer, try darker colors and experiment with textures. My secret tip to making my thighs look slimmer is my favorite pair of black lace tights. They can be played up sultry (right) or played down in a grunge style (left) while still remaining an elegant balance.
Decorative socks are my this season must have. I'm obsessed with thigh-highs! They can also be manipulated. They can give off a sexy look if played with a cute mini skirt. They can be worn with tall boots and dark jeans to give a classic prep/equestrian look. But you don't have to go tall or go home! Bright socks pushed down can drive attention to your boots or shoes. Hell, try leg warmers! They do the same trick and can really add drama to a pair of simple pumps.
A black belt is the world's best kept secret when it comes to camouflaging a tummy and cinching in a waistline! By adding in a solid line, your outfit is divided in half and the dark color helps take in imaginary inches! It's a stylist's best kept secret!
Texture is a key word for any piece where you want to add volume. Being a flatter girl, I always try to find ways to add texture and volume. By adding a jacket with fringe or studs, the illusion of a fuller top half can be created. If the jacket is also a textured crop jacket, it can not only add to your top half, but in most cases, take away from your bottom. To add extra-super texture, add even more volume by wearing it in a bright color.
Every girl knows the secret to adding height and the illusion of toning and definition to your legs is in the shoes. By wearing a pair of heels or wedges, you put your feet in a position that stretches certain muscles. Some call it a curse, some a blessing. If worn in the right way, with a proper height, and on a limited number of occasions, wearing heels can be perfectly fine. By adding height to your shoes, not only in the heels, such as tall boots, can lengthen the appearance of your legs. Also, if the shoes match closely to the pair of jeans or pants worn underneath, the illusion of longer legs continues! Which brings me to the next staple in our top ten!
Dark colored jeans! One of the oldest tricks in the book! They can make your legs look leaner and longer! At the same time! :-D Crazy, right? Also try getting jeans with dark seams if you are not looking to highlight your curves. If you do want to play up curves, try going for a pair of dark jeans with brighter seams; the most common is yellow.
Another way to appear thinner is a long, button-down blouse. The edges should flow from the top over the bottom to create the look of a slimmer tummy. The buttons play a big part in this facade. By having a straight, stream-line effect of buttons down the middle of your torso, you instantly look taller and slimmer!
Camisoles are definitely my go to piece when I have a top that's see-through, low cut, or even too short, like a mullet shirt where the back is long and the front is short. They can also be worn in layers to make colors pop and accentuate your upper half. Camisoles are like the life-savers of all wardrobe malfunctions! And if all else fails, just wear it as is, almost like a tank top.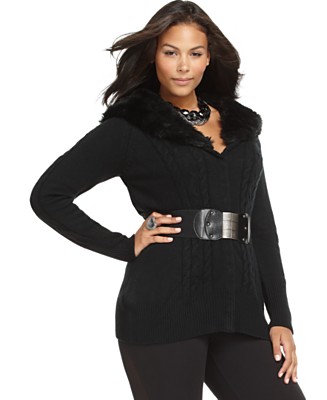 The simple sweater is not only functional, but completely fashionable as well! There are two main ways to wear sweaters depending on your shape. For thinner, stick-ish girls I would recommend an oversized sweater to add volume to the top half (right). The same goes for girls with flatter upper halves and those with pear shapes. If you have an apple or hourglass figure, I would recommend a fitted sweater (left). This also goes for those bustier girls. The fitted type will accentuate your curves instead of over-exaggerating them!